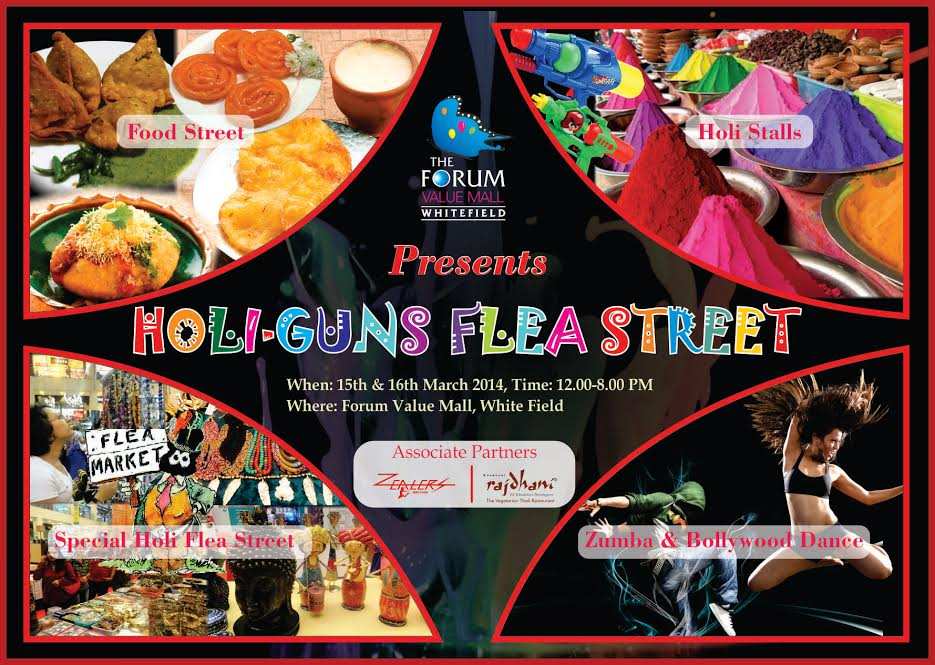 the mall plans to spread joy and colour through a very exciting "Holi-Guns Flea Street". The mall exterior will be lined with colourful tents for two straight days, on the
15th and 16th of March
. The flea street will be theme based, sure to bring out the bright and playful side in everyone.
Holi, being the festival of colours is widely celebrated and usually comprises of a variety of fun activities, keeping this in mind, the market will be split into four zones, each catering to something "Holi Specific".
One zone will cater to all Holi related products, such as Pichkari's and water balloons that the child in you will not be able to resist. The area will also be littered with stalls selling colourful powders and bangles. Moreover, this zone will also include an ethnic stall that will be selling colourful dupattas as well as traditional and brightly patterned colourful chappals.
The second zone will comprise a choice of enjoyable workshops. Get your hands delightfully decorated at the mehendi stall or sign up for some unadulterated fun at the pottery stall, set up only to make your day more memorable.
There's something for everyone at Forum Value Mall this weekend, there is a zone dedicated to stalls exclusive to bags, jewelry, furnishings, artifacts, portraits and T-shirts. These stalls will also be given a resplendent look in light of the festival heightening your joyous mood.
Any festival isn't complete without food, to satiate your appetite a zone is exclusively dedicated to mouthwatering delights from Rajdhani. Start at the finger licking chaat counter and make your way to the delicious samosa and kachori stalls. Indulge in the Holi drink Thandai or the infamous Masala Chai and wind up the festivities with some sweet treats such as hot jalebis and delectably dripping Mal Pua's.
Furthermore, get your groove on with the Zumba and Bollywood dance sessions that will be held inside the atrium and conducted by Zealers Dance Studio, the sessions will be held twice between, 10 am-12:30 pm and 5 pm-7 pm. Forum Value Mall is certain to put the 'fest' into festival this weekend.