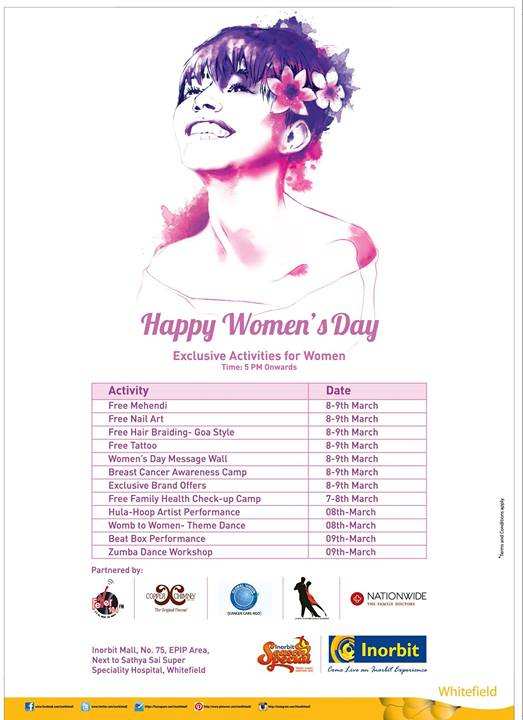 March 06, 2014, Bangalore:
International Women's Day is celebrated on March 8th every year as a general celebration of respect, appreciation and love towards women, to a celebration for women's economic, political and social achievements. Inorbit Mall, Whitefield, Bangalore would also like to reach out to women in Bangalore and celebrate with a range of activities dedicated to them over the whole weekend.
Every woman walking in to Inorbit Mall Whitefield will be greeted by pink roses, chocolates and a greeting card, before they check out the line-up of activities organized especially for them.
Stop by the message wall for dedications – where you can see what someone feels for you or to express your feelings for the special women in your life.
March 8th
Hula hoops anyone? Watch our hula hoop artist take everyone for a spin as she whirls up a storm with her moves.
Later, immerse yourself in the mesmerising performance lined up by the Bangalore based Piah Dance Company. Founded by the talented bharatanatyam and contemporary dancer Priya Varunesh Kumar, they will start off with Womb to Woman – a mystifying piece depicting the strength of a woman, her grace and poise, from birth to adulthood. This will be followed by a selection of salsa, acrobatics, hip hop and bhangra set to Bollywood music; and later a blend of Indian contemporary with kathak and lavni. An energetic kalaripayuttu performance will lead a showcase of rural festivals in India using khanjiras (a single faced frame drum). A lively garba will end the day's performances.
March 9th
Vocal percussion, singing, imitation of turntablism are all the sounds set to come out of our local beat box artist's mouth as he entertains with his human drum machine act.
Ever felt the need to get up from behind your desk and really move? Zumba offers the perfect incentive to get you moving. Zumba dance workshops are often called 'fitness-parties' which blend upbeat world rhythms with easy-to-follow choreography, for a total-body workout. A global lifestyle brand, Zumba Fitness fuses fitness, entertainment and culture into an exhilarating dance-fitness sensation. Join in and initiate yourself into Zumba at this free workshop.
On both days, one can also try out nail art, tattoos, hair braiding and intricate mehendi designs – all free for the ladies. Select stores will also be offering women shoppers' special offers on fashion, accessories and cosmetics. On a serious note a breast cancer awareness camp and free family health check-ups are also available to make this Women's Day a more holistic experience.
So, head to Inorbit Mall to celebrate this Women's day with your loved ones.
Inorbit Mall is hosting special activities filled with great music, fun and entertainment as a part of Inorbit Season Special, an initiative by the mall to celebrate special occasions like Women's Day, Summer Festivals, Religious Festivals, etc through musical performances, dance, workshops, games, plays, etc.
Date : March 8-9, 2014
Time : 4 pm onwards
Venue : LG Floor Atrium, Inorbit Mall, EPIP Area, Whitefield
For further details regarding the shows, please contact: Inorbit Mall on 080 67280000.